After decades of teaching evening classes after work, we are now able to offer flexible class times.  The COVID era has shown us that online learning works. Locations and time zones are not a barrier to learning karate and kobudo. NIKK has members from British Columbia to Ontario to Texas.
Who are these classes for?
New Students to Karate or Kobudo
Some members have held a long time interest in karate or kobudo but typical dojo hours with work and life commitments made it difficult to start. With our flexible times and format they are now able to pursue their interest.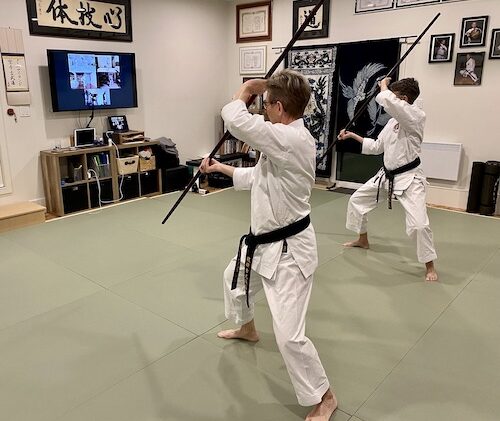 Experienced Karateka Interested in Kobudo
Some of our students are experienced karate sensei themselves who are deepening their kobudo practice for their own enjoyment and development, and to add the Shimbukan program to their dojo. If you are interested in this path, please contact us.
Former Students of Shimabukuro Sensei
We are often contacted by practitioners of Shimabukuro sensei's karate who want to continue, or expand on their knowledge of his kata, kumite and jujutsu. Now that we have incorporated online teaching into our program, time and distance are no longer a barrier and we welcome you to our online dojo.
FAQs aBOUT MARTIAL ARTS TRAINING